Viber for Windows Phone
Viber for Windows Phone
101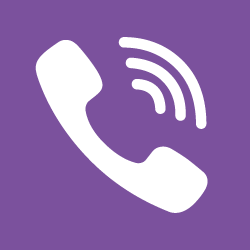 Viber for Windows Phone – is a simple-to-use multi-functional VoIP messenger with a variety of functions, features and abilities, designed to facilitate the communication process between remote users, located either in one geographical region or country or situated in different states or cities, far enough from each other. Application for Windows Phone owns two different modes of talks: absolutely free, which uses the embedded function of connecting smart-phones or laptops which have Viber installed aboard, and Viber Out mode, which connects the landline phones or gadgets where Viber is not installed. The last mode of the mentioned requires small amount of money, which is really small comparing to other messengers or similar-purpose tools (WhatsApp, Skype, Google Hangouts). For instance, the minute of conversation with device located in United Kingdom, costs just 5.9 cents on the mobile and 1.9 cents on the landline device. The calls to USA are even cheaper, so you will feel the difference in prices while making a call with this app, - you need just to download free Viber app for Windows Phone, install it on the PC or mobile gadget and witness it yourself.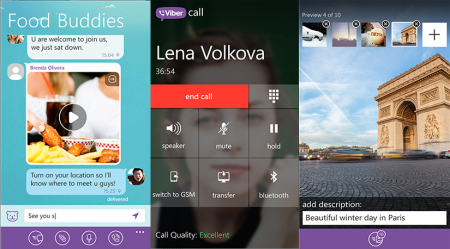 Essential Viber for Windows Phone functions:
the possibility to connect additional devices, simple forwarding of the calls
exchange of the SMS-messages in the "chat"-mode, sending of the photos, transferal of the stickers, the function of sending your own location
the arrangement of free video calls in HD-quality
handling of group dialogues with maximum quantity of members up to 100 persons
perfect operational speed in Wi-Fi, 3G or 4G networks.
If you care about protection and safety of the calls, Viber for Windows Phone guards the communication process with encryption of 128-bit AES-protocol, which makes the conversation secure and reliable. Indeed, like in Line messenger, the embedded security feature of Viber for Windows Phone application will make sure, that your dialogue with the subscriber won't appear in third-party hands and would be overheard.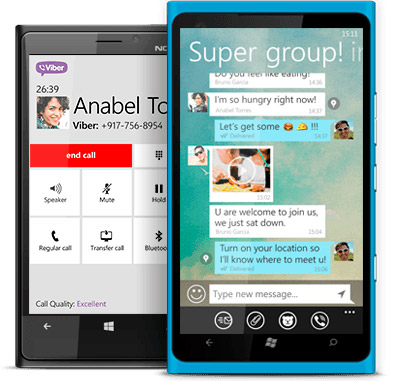 Viber for Windows Phone also greatly supports geo-tagging. Thus, in a simple chat message you are capable to send your precise geographical location to one of your contacts, as well as a good dozen of other objects: media-note, doodle created with your own hands by pencil, pen or brush, external file or data about one of the contacts from your address-book. This function will be quite helpful if you talk with one of your closest friends and often meet with him outside in real-life. In such a way, sending of mentioned objects in Viber will appear just in time.
In addition, Version for Windows Phone has a perfect support of Bluetooth-headsets. In this way, if you have an incoming call, you may forward it to your headset with just a couple of clicks, and have a comfortable hands-free conversation with the subscriber without delays or pauses.
Regarding the interface, application for Windows Phone has a splendid support of common Metro-theme, and on the smartphone the app has a quite suitable view, fitting into the canvas of OS design and not differentiating from the graphical scheme of other installed tools and utilities.
You may download Viber for Windows Phone for free in the section below the app description on the direct link. Otherwise, you may address to the official page of the project in the web.
Viber for Windows Phone
Software Full Name
Viber for Windows Phone
Setup File Name:
Viber.xap
Operating system:
Windows Phone
For devices:
Phone and tablet
Developer:
Viber Media S.à r.l.
Download Viber from the official site
*Viber for Windows Phone is available for free downloading without registration.
---
Downloads Viber for Windows Phone?
Share the page on your site:
---
Similar Materials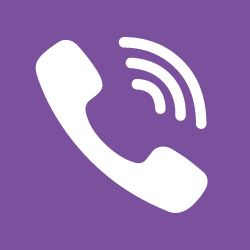 Download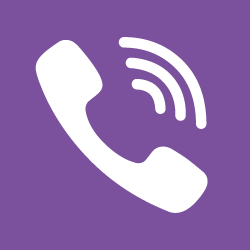 Download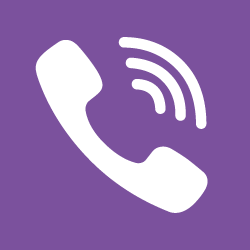 Download